Boosters
Reinforcement or transformation pieces with the highest precision
The SONOTRONIC component program includes boosters (amplitude transformation pieces) for ultrasonic frequencies of 20 kHz, 30 kHz and 35 kHz in various ratios. The booster is part of the ultrasonic oscillating unit, which consists of the components converter, booster and sonotrode. In the oscillating unit, the booster is interposed between the converter and the sonotrode.
What is the purpose of the booster?

Adaptation and forwarding of the amplitude between converter and sonotrode
The booster serves to pick up the vibration amplitude arriving on the input side from the converter and to pass it on to the sonotrode in an appropriately transformed form. As a rule, the oscillation (amplitude) is increased. Often the booster is also called amplitude transformation piece (ampli), amplification piece or transformation piece. The amplitude, also called the amplitude of oscillation, is the maximum deflection of an oscillation. The higher the amplitude, the higher the energy content of the vibration. The vibration amplitude must be precisely matched to the material properties of the plastic being processed. An excessive energy content can damage the material: If the plastic can no longer avoid the vibrations by deforming, it will tear.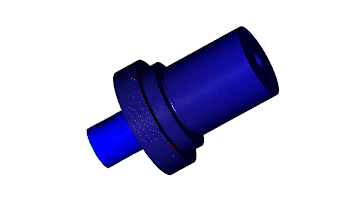 Important parameters for the optimal adjustment of the amplitude
The transforming oscillation is achieved by making the booster so that there is a difference in mass between the input and output sides. If the output side is smaller than the input side, it oscillates with a higher amplitude due to its lower mass for the same energy input. If the mass of the input and output sides is the same, the transformation ratio (transmission ratio) is 1:1.
Vibration-free fixation of the ultrasonic components in the machine
The second task of the booster is to support the entire ultrasonic oscillating unit in a feed unit (VE) of the welding machine by means of the soundless retaining ring. The soundless fixation prevents the VE from vibrating, which would be transmitted to the entire machine. The highest precision is required in the development and manufacture of boosters. We meet this demand with our many years of experience and our own tool production. The boosters are one hundred percent manufactured in-house by SONOTRONIC.
Technical data
Frequencies 20 kHz, 30 kHz  and 35 kHz 
Different transformations in the ratios
Construction rigid or rubber mounted
Titanium or aluminum
100 % in-house-production
You might also be interested in
Contact