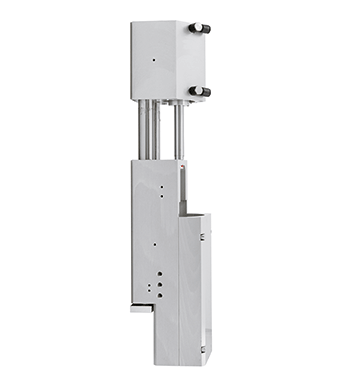 What is a feed unit and how does a feed unit work?
The feed unit (VE) is a pneumatically, hydraulically or motor-driven pressing unit to which the entire ultrasonic oscillating unit is fixed or also partially integrated. SONOTRONIC offers feed units for oscillating units with the ultrasonic frequencies 35 kHz, 30 kHz and 20 kHz.
With the 20 kHz frequency, the highest welding forces are achieved and the largest dimensions of components can be processed. Different diameters and stroke lengths are also available for the various types of feed units. In our special machines, we usually use up to 160 feed units at the same time - occasionally more, in the more compact workrooms of the ECOFLEX up to 20 units, and the standard ultrasonic machine ECO iSONIC is designed for one feed unit. For special applications, SONOTRONIC has developed various feed units in special designs.
A feed unit consists of a slide that can extend or retract along a specific linear guide. Due to the high-quality precision guides, the feed units are particularly durable. This allows the oscillating unit with the sonotrode to be lowered onto the workpiece during intermittent work processes and pressed onto the area to be machined with the desired contact force. After completion of the joining or cutting process, the feed unit is raised again. The entire movement sequence usually functions automatically, but can also be controlled manually.
Feed units in special design
Particularly in special machine construction, special solutions for the design of the feed units are required in certain cases. For example, if welding points are difficult to access, space is limited or extreme height differences between the welding points have to be mastered, the standard feed units cannot be used.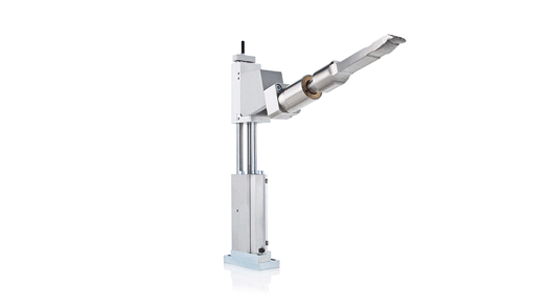 For this purpose, SONOTRONIC develops special feed units in special designs to meet the requirements of the customer and the application.
Feed units
in standard design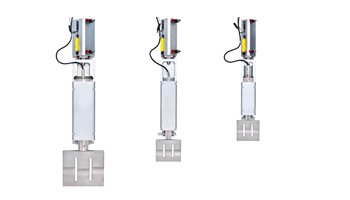 Precise monitoring of the welding path
Precise infeed into the welding position
Precise build up of the welding force
Anodized housing (natural aluminum)
Easy integration into existing or new machine concepts 
Feed units
in special design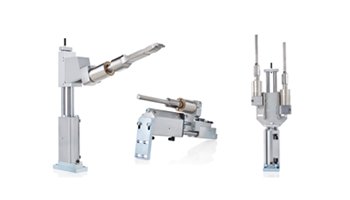 For limited space conditions: 
Compact or short-stroke feed units
For hard-to-reach spot welds:
Backstroke or angled feed units
For extreme height differences:
Tandem feed units with two separate oscillating units
i

SONIC Stepper
feed units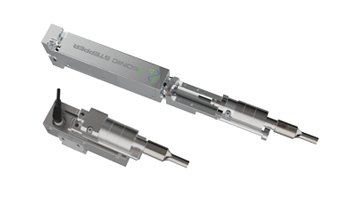 For  ultrasonic riveting or surface welding in filigree applications
With stepper motor
High process stability and long service life
Position monitoring
Better welding results
Low energy costs
You might also be interested in
Contact