Ultrasonic sonotrodes
Design and production – complete in-house production 
The sonotrodes guide the ultrasonic vibration into the workpiece. We manufacture the sonotrodes individually tailored to the respective application and customer requirements and proceed with the development based on many years of experience and supported by the finite element method (FEM). The design of the sonotrodes depends on the ultrasonic application (welding, cut & seal, riveting, embossing, punching, cutting) and the properties of the workpiece to be processed.
What is a sonotrode?
Sonotrode is the technical term for the welding tool assigned to the respective application. Generally, sonotrodes are made of a titanium alloy or high-strength aluminum, as these materials have low damping and high fatigue strength. This means that they are particularly "elastic" and can therefore be set in vibration quickly. If there are high demands on the stability of the sonotrode or if high wear is to be expected, such as during punching or cutting, it can also be made of a hardenable material, e.g. PM steel or ferrotitanite, or provided with a wear-resistant coating.
There are different types of sonotrodes for the various applications, e.g. round, knife, block or piercing or fakir sonotrodes. Two round sonotrodes are also frequently mounted together on a common carrier as composite sonotrodes. 
How does a sonotrode work?
The sonotrode is the tool in the ultrasonic oscillating unit that has direct contact with the part. It has to fulfill a variety of tasks: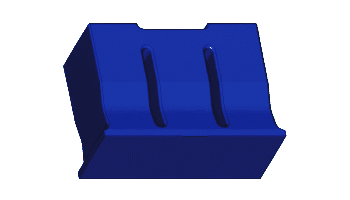 It transmits the vibration energy of the system as well as the contact pressure of the machine to the workpiece.
 
The sonotrode shapes the part during riveting or flanging. The shaping itself is on the one hand dependent on the part to be welded and on the other hand subject to physical laws which must be observed in the manufacture of resonance bodies.
 
The sonotrode provides the amplitude transformation due to the mass difference between the input side and the workpiece side. This means that if the input side of the sonotrode has a larger mass than the output side, the maximum deflection (oscillation) of the sonotrode changes in the corresponding ratio.
Technical data
Frequencies: 20 kHz, 30 kHz and 35 kHz 
Different frequency lengths possible: Lambda ½, Lambda 1 as well as Lambda 1 ½ 
Sonotrodes made of aluminum, titanium or steel; as well as application-specific surface treatments and coatings possible 
Different designs: Round, knife, block, fakir, pin, composite sonotrodes
100 % in-house production
You might also be interested in
Contact