Services
With our high-performance team of highly qualified employees, SONOTRONIC guarantees a fast response to your requests. For flexible solutions to problems, we use the latest technology and exhaust all possibilities. As a manufacturer of standard and special machines for various industries, we accompany you competently from the idea to the start of your series production and are also available to you at any time with our service.
We offer in-house developments for customized special machines and application-specific components.
In our application technology laboratories, we develop new applications for the use of ultrasonic.
From the idea onwards, our team in development analyzes the specific functions of the systems.
From construction to commissioning, the assembly of machines and equipment is carried out professionally and precisely.
We respond to repair requests with fast response times and appropriate solutions.
With our training courses, we qualify your employees for the use of our technologies and machines.
Our competent service team is available for you quickly and reliably with advice and support.
Phone: +49 7248 9166-333
Monday - Thursday 8:00 a.m. to 5:00 p.m.
Friday 8:00 a.m. to 3:00 p.m.
Project consulting
In addition to classical consulting with regard to application-specific part design and machine concepts for customized special machines and systems, SONOTRONIC offers you the instruments of "Simultaneous Engineering" already within your product development.
We are available to advise you on the planning of new production lines for series production and on the expansion of existing production facilities. Together we let your ideas germinate and develop them further into a finished machine concept. We check the feasibility of your projects with our technologies and find solutions e.g. for welding, punching or cutting tasks. Within your part design, our specialists support you in parallel in CAD tool design. Furthermore, we develop the design of the welding tools (sonotrodes) simultaneously to the design of the injection molding in direct cooperation.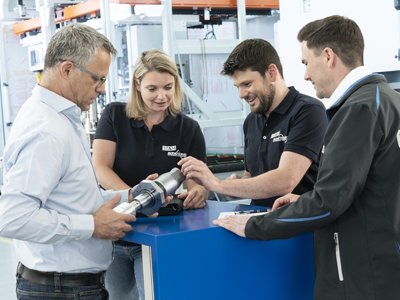 If you decide to use "Simultaneous Engineering" with SONOTRONIC, you will have the following advantages, which are particularly useful when machining complex workpieces:
Reduction of development and design times

Elimination of subsequent design revision loops for optimization of the joining technology

Optimized design of the weld and avoidance of over- or undersizing of it

Elimination or reduction of additional workstations within the machine concept

Assurance of the design adapted to the technology

Efficient cost reduction on the part and the machine concept
Our project consultations and concepts are based on the generally valid principles of joining technology and are not manufacturer-specific. We are happy to work with you - at your site, at your development partners, at our premises or via video conferencing. In the process, we clarify the details and then provide you with a non-binding offer for our services and the execution of the project.
We have already successfully implemented numerous projects in the field of plastics processing for our customers from various industries such as the automotive, packaging and textile industries. These include, for example, ultrasonic welding machines, ultrasonic assemblies for integration into existing machine concepts or robot systems for flexible ultrasonic punching solutions. When working with SONOTRONIC, you are choosing quality, cutting-edge technology and experience.
Applications engineering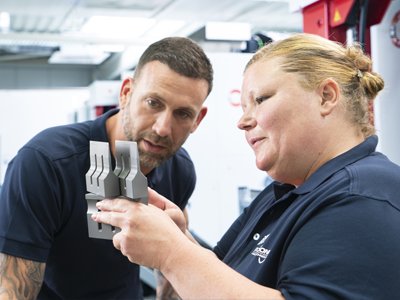 In our application technology laboratories, we develop new applications for the use of ultrasonic and other technologies and continuously improve existing processes. In addition, we carry out customer-specific sample work for you and advise you until the ideal solution is found.
Our customers will find competent contacts in SONOTRONIC's application technology department for advice and problem solutions in the field of plastics and textile processing with ultrasonic, infrared, hot plate and hot air technology. Another innovative development area is environmental technology. Through economic partnerships and scientific cooperations, as well as the proximity to our customers and the various markets, we succeed in continuously developing and improving our technologies.
Our many years of experience and our special expertise support us in responding flexibly to our customers and answering your questions about applications, technologies and developments. We would also be happy to advise you directly at your site with our sales team. We carry out non-binding preliminary tests on samples for you and evaluate the results in a report for you.
In addition, we research and test all the parameters necessary for machining a workpiece in our application technology laboratories to ensure reproducible results. In doing so, we gain important knowledge that is crucial for the success of the project, such as:
Matching between the workpiece and the technology

Design of the sonotrodes and anvils

Design of the parts nests

Arising cycle times

Typical workpiece properties

High-precision target/actual comparison with CAD data after final production of the ultrasonic tools

Measurements in the air-conditioned measuring laboratory with the Zeiss CONTURA scanning platform

Exact measurement of dimensional accuracy with the star probe 

Calculation of the optimum vibration behavior using FEM (Finite Element Method)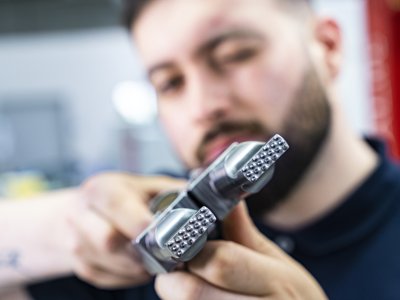 Development / design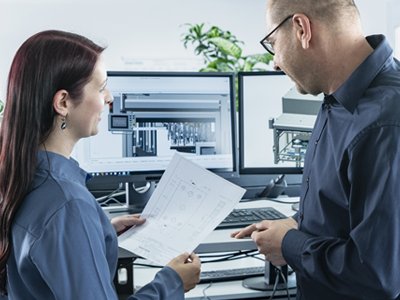 With distinctive expertise and experience from over 2,200 successfully realized projects, we develop special machines for various applications: From ultrasonic welding machines for sealing thermoplastic packaging to robotic systems for flexible ultrasonic punching of bumpers.
Our customers receive reliable, tested products from SONOTRONIC, which are developed in permanent consultation according to the latest state of the art. From the initial idea to the concept and target definition, our development teams analyze the application-specific functions of the machines. Performance calculations and findings from application engineering lead to initial technical designs that mature into finished machine designs with the help of 3D CAD and FEM optimization. After careful preparation of the technical documentation, prototype construction and the test phase begin. This is followed by customer-specific technical adjustments and finally the release for production.
Implementation of customer requirements 

Advice on part design

Customer-specific tool development 

Calculation and simulation of tools by means of FEM analysis 

Development and programming of machine controls

Components according to our own development and production in our in-house production center

Avoidance of over- or undersizing of the weld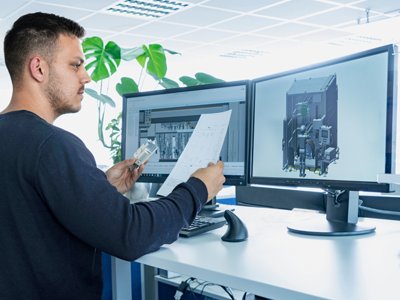 Assembly / commissioning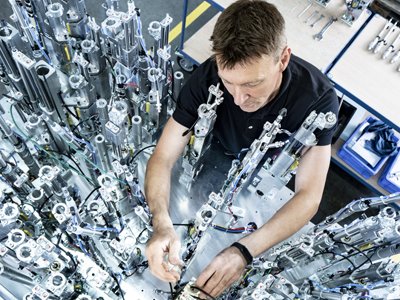 We produce state-of-the-art standard and special machines on an area of over 9,000 m2. Our team of experienced employees and motivated junior staff is always available for assembly and commissioning at our customers.
At our headquarters in Karlsbad, we manufacture more than 120 special machines per year for plastics processing with ultrasonic, infrared, hot plate and hot air on a generous production area, which was last expanded in 2007. We produce the crucial components of our machines ourselves in our in-house tool and pattern shop. In addition to Karlsbad, other production sites are located in Barcelona (Spain), Wixom (USA) and Hui Yang City, Hui Zhou (China).
On site at our customers, we set up the machines, align them according to specifications and configure them for the production of series parts. We then train the users for the operation and maintenance of the machines. As an internationally active company, SONOTRONIC now delivers worldwide and our service is available around the clock.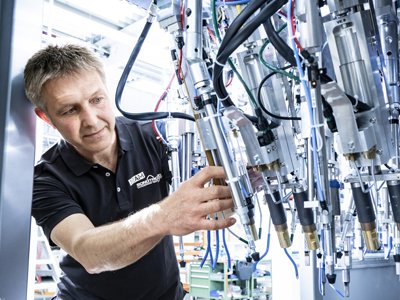 Repair / maintenance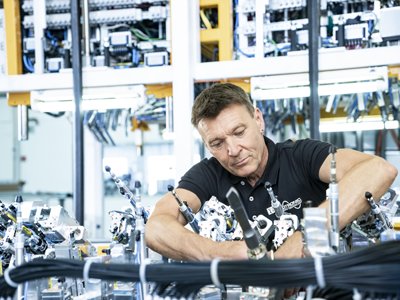 Maintenance work on machines is carried out by our trained specialists at regular intervals at the customer's request. We respond to repair requests with fast response times and appropriate solutions.
At a regular basis, we carry out scheduled and current maintenance and servicing work on the machines directly at the customer's premises or also at SONOTRONIC. In doing so, we balance various parameters, check the ultrasonic components, among other things, and properly replace defective or worn components. If necessary, we bring machines and tools up to date by rebuilding or expanding them.
We carry out repairs for our customers just as reliably and professionally as we carry out maintenance work. The reliability starts with the accessibility and the necessary diligence in the implementation. In the event of complaints and defects on machines, we respond immediately to your inquiries. In cooperation with the responsible specialist departments, our service employees immediately look for the cause of the problem and offer an appropriate solution. In the case of on-site repairs, we do everything to ensure that the machines can be operated smoothly again as quickly as possible.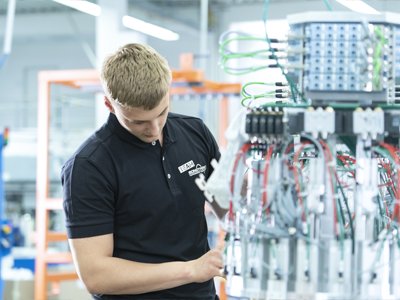 Training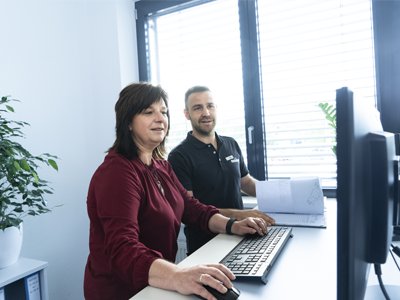 With our training courses, we qualify your employees for the use of our technologies and machines. Depending on your needs, we will train you in our training rooms in Karlsbad or, if you wish, on your premises. In parallel to the project, our experts provide you with application-oriented knowledge about our technologies as well as their principles, functions and possibilities in theoretical training courses. You will benefit from our many years of experience and our special know-how in the field of plastics processing.
We adapt the orientation and focus of the training courses to the specific needs of each participant. In order to guarantee a smooth operation of the machines, we instruct the future operators in the functions of the machines during practical training courses. We also instruct our customers on the maintenance of the machines.
In a practical way, we introduce your employees, project planners and designers in the shortest possible time to topics such as:
Principle and function of ultrasonic and its components

Different welding processes and joining technologies

Materials and their welding properties

Design of weld seams, sonotrodes and parts nests

Design guidelines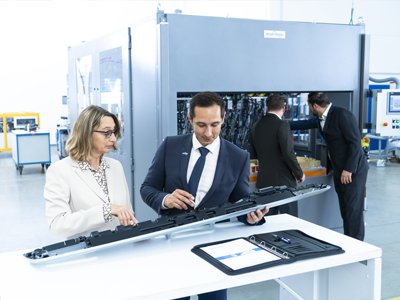 Worldwide service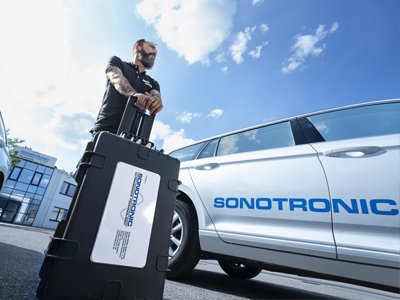 Our service staff are on hand to provide you with advice and assistance, so that you can benefit from our distinctive expertise. We provide assistance by telephone and try to find solutions to problems together with the responsible specialist departments. If necessary, our experienced service technicians will rectify the problems on the machine directly at the customer's site. Fast response times characterize our service.
SONOTRONIC's service department is available from 8 a.m. to 5 p.m. from Monday to Thursday and from 8 a.m. to 3 p.m. on Fridays.
In addition, we offer a 24-hour hotline via service contracts.
Service Hotline
| | |
| --- | --- |
| Phone | |
| Mon. - Thr.  | 8:00 a.m. to 5:00 p.m. |
| Fr.  | 8:00 a.m. to 3:00 p.m. |
We offer training for the qualified use of our technologies and machines at the company location in Karlsbad, via webinar or at your site.
Contact