Sports equipment
Solid connections with ultrasonic without needle and thread
Ultrasonic technology is used primarily for welding tapes to injection molded parts of sports articles, for example ski goggles. A spot sonotrode is used to weld the elastic strap and the injection-molded part in a material- and space-saving manner. An absolutely tight connection is created. In addition, the elastic bands of ski goggles are also cut using ultrasonic. The cut edges are sealed and embossed during cutting so that the material does not fray.
Fleece and Velcro straps can also be welded on with ultrasonic in a shapely and flexible manner. The resulting seam is firm and flat. For example, the Velcro fastener on ski jumping gloves is welded on with ultrasonic.
In the fashion industry, fine and elastic materials (consisting of at least 70% synthetic fiber) are "sewn" with ultrasonic without needle and thread. In this process, continuous spot welding replaces the thread. The elasticity in the material is retained, and the overlap seams are gentle on the skin, not noticeable and flat, guaranteeing a high level of wearer comfort.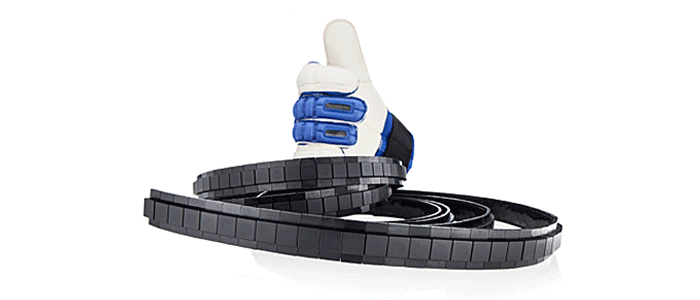 Realized applications are for example
Ski goggles

Ultrasonic cutting of elastic tapes
Ultrasonic welding of elastic bands with injection molded parts 

Ski jumping gloves welded to the Velcro fastener
Mesh fabric is attached to injection molded parts for helmets
Ultrasonic cutting of mountain ropes
Suitcase straps welded tightly and visually with ultrasonic
Punching tapes with ultrasonic
Ultrasonic punching of various shapes from textile materials
Cutting to length and cutting of nonwovens or fabrics
Ultrasonically joining fleece and Velcro tapes to make them tear-proof
Ultrasonic "sewing" of corsetry such as sports underwear without thread (spot welding while maintaining elasticity)
You might also be interested in
Contact