Ultrasonic components
Production with many years of experience and great know-how
SONOTRONIC offers the complete range of ultrasonic components for plastics processing. Our ultrasonic systems operate at 20 kHz, 30 kHz or 35 kHz. We develop and manufacture the generators, converters, boosters, sonotrodes, anvils and parts nests in our own workshops.
Each of these components is of elementary importance for the flawless ultrasonic process. Our ultrasonic components are produced for individual and spare parts sales and are themselves used in our ultrasonic systems as well as standard and special machines. We guarantee high quality and best product characteristics.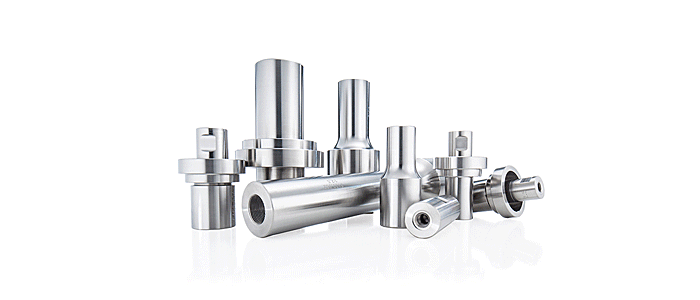 Functions of the ultrasonic components
The ultrasonic frequency is generated in the generator. This converts mains voltage into high-frequency high voltage and transmits it to the oscillating unit, consisting of the converter, the booster and the sonotrode.
The converter electrostrictively converts the incoming voltage into mechanical oscillations of the same frequency and conducts them through the booster and sonotrode into the workpiece.
Absorption of the vibrations causes interfacial and molecular friction in the joining or separating zone when pressure is applied and the mechanical vibrations are introduced vertically.
You might also be interested in
Contact