Ultrasonic assemblies
Efficient, safe and simple ultrasonic processes
SONOTRONIC develops individual ultrasonic assemblies for integration into existing machine concepts for various applications. Solutions such as the patented sonotrode table optimize processes through the advantages of ultrasonic technology.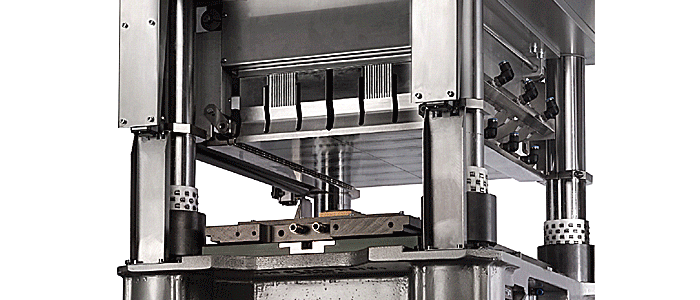 Since ultrasonic technology can be used in many areas and industries, SONOTRONIC supplies on the one hand ultrasonic assemblies in addition to complete machines and systems. 
On the other hand, we also develop oscillating units as special assemblies, which are built into the customer's own fixtures. One of these special assemblies is the patented sonotrode table, in which several block sonotrodes are arranged to form a flat welding area. The design and shape of the workpieces is determined individually by the anvil embossing. The sonotrode table is mainly used in the packaging industry and realizes customer-specific applications.
Ultrasonic assemblies for different industries

Packaging industry
Ultrasonic sealing of the fin seam
Head sealing of stand-up and flat bags
End sealing of tubes
Systems for use in vertical (VFFS) and horizontal (HFFS) form fill and seal machines
Simultaneous sealing and punching of blisters, trays or cups
Food industry
Ultrasonic cutting systems for cakes, pies, meringues and other baked goods
Longitudinal and transverse cutting of cookie confectionery
Cutting of e.g. mozzarella, hard cheese, chocolate into slices or pieces
Controlled cutting of pretzels
Textile industry
Cutting to length and trimming of nonwovens and fabrics
Edge trimming of woven and nonwoven fabrics
Punching and cutting of thermoplastic fabric tapes
Simultaneous embossing and laminating textiles / nonwovens
 

Automotive industry
Non-marking ultrasonic welding for challenging applications 
Joining of plastics with other materials such as wood or metals
Cutting foam for seat heating and ribbon cable in car seats
Punching of airbags
Plastics
Strong and reliable connections for plastic toys
Temperature-resistant connections for consumer goods
Integration of electronic components in electrical appliances or household items
Environmental technology
Sewage sludge disintegration
Energy production from biogas
Industrial wastewater treatment
Process water treatment
Surface processes
Desorption of organic substances
Making cell contents available 

 
You might also be interested in
Contact