i

SONIC MASK WELDER
Manual assembly stations for the production of mouth and nose masks 
The standard machine duo iSONIC MASK WELDER was specially developed for the production of mouth and nose protection masks using ultrasonic. This machine concept is well-priced, quickly available and ready for immediate use.
With our ultrasonic welding machines iSONIC MASK WELDER mouth and nose protection masks are welded safely. The ultrasonic welds are hard-wearing and resistant and without thread textile materials such as nonwoven as well as PA, PES, PP, Aramid, Dyneema®, glass silk and other materials as well as mixed fabrics can be processed and welded.
Ultrasonic tools for welding textiles can be integrated into manual workstations as well as into existing machine concepts, and ultrasonic processes can also be combined, such as welding in a plastic valve. The seam geometries can be individually designed and allow continuous welds with different contours as well as spot welds.
Advantages
Welding of elastic and non-elastic textiles
Low seam protrusion
Flexible seam design
Cold tools
Energy-saving
 
Applications
Ultrasonic welding of mouth and nose protection masks 
Welding nonwoven edge
Welding nonwoven flat belts
 
Processes
Ultrasonic
Combined processes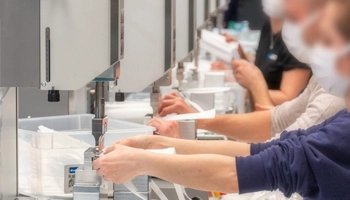 Zettl Automotive GmbH: Production of mouth and nose protection masks
In cooperation with Zettl Automotive GmbH, we have developed a production line for the production of mouth and nose protection masks based on ultrasonic. Thanks to the innovative joining technology, protective masks are produced at several manual workstations with the ultrasonic welding machines ECO iSONIC in a minute cycle.
You might also be interested in
Contact