ECO
FLEX

i

SONIC
Compact welding cabin with exchangeable tool cassette
The ECOFLEX iSONIC ultrasonic welding cabin presents itself in a completely revised concept. The special feature is above all the working area: Individually tailored to the respective application, it is now integrated into the cabin as an exchangeable tool cassette. The cassette can be exchanged either from the operator side or from the rear of the machine.
The tool cassette has a modular structure and is equipped with 20, 30 or 35 kHz ultrasonic technology for surface, piercing and rivet type joints. Also, small punching applications can be implemented. For this, SONOTRONIC uses its own highly developed ultrasonic components. All ultrasonic components as well as the parts nests are developed and produced in our own production facilities based on the workpiece CAD data. Likewise, programming of the PLC control and remote maintenance is performed directly in-house.

Advantages
Flexible machine concept thanks to tool change function
Available in three different cabin widths (external dimension)

1,700 mm
2,100 mm
2,500 mm

Modularly designed workroom with proven components
For surface, piercing and rivet connections (ultrasonic, hot stamp, hot air or infrared)
High quality
Short delivery times
Attractive prices
 
Applications
Ultrasonic welding of bottle openers
Ultrasonic riveting of trim strips (A-pillar, B-pillar, C-pillar)
Ultrasonic welding of plastic housings
Ultrasonic welding of head-up displays
Ultrasonic joining of nonwovens into plastic components
Embedding and beading of bushings in glove compartments
Ultrasonic riveting of cup holders in center armrests
Hot riveting
Hot riveting of LED lens holders and printed circuit boards for LED signal transmitters 
Punching and welding of nonwoven fabrics for the production of a membrane (cut & seal)
100% modular and powerful - ideal for small to medium size components
The ECOFLEX iSONIC enables changing over of the working area, which is fitted by default as a tool cassette, from either the front or rear side. This means that multiple workpieces can be processed in individual working areas on one and the same machine. Alongside storage space in production, this is a primary saver of investment costs. With a tool change trolley and smooth-running ball bearings in the machine interior, the tool cassette can be changed quickly and ergonomically. The insertion or removal of the tool cassette can be performed via both the operating and rear side. To do so, both sides have wide opening areas, which is also helpful for maintenance.
The ECOFLEX iSONIC welding cabin is particularly economical for the production of small and medium-sized components. It is ideal as a "filling workstation" for non-just-in-sequence production or perfect as a supplement to large systems (e.g. center consoles, instrument panels or door panels) for small assemblies installed there, such as tweeters, interior door actuators, decor panels, storage compartments or cup holders.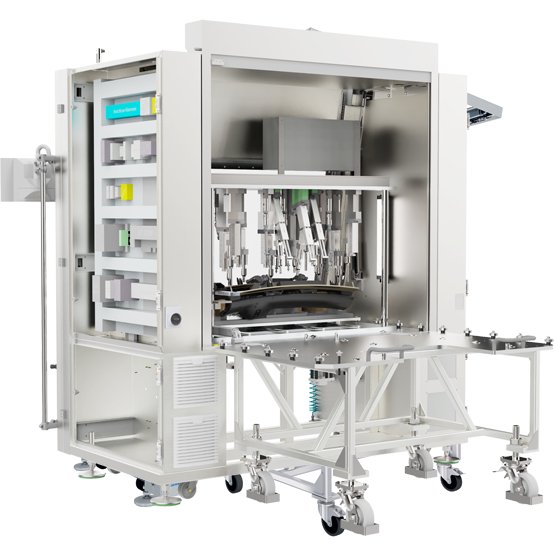 Features
Front can be completely folded up through 90° for maintenance purposes and tool changes
Pneumatically operated lifting door with large viewing panel plus single-hand start and safety edge or light curtain (optional)
Automatic coupling for electro-pneumatic energy supply of the tool cassette
Touch panel with intuitive user guidance
Ergonomic loading conditions (loading width, loading height, loading depth)
Space for the control cabinet on the left and right side of the machine
Forklift mounts for safe and easy transport
Configurable function columns with ergonomic arrangement of the operating elements:

Emergency stop
Start button (capacitive)
Variable operator messaging system (EKS/Chip/Card system)
Service sockets (230V/Ethernet/USB)
Connection barcode reader
Handheld welding device (optional)
Status light
Control panel ergonomically adjustable

Components and workspace in a tool cassette:

Changing of the tool cassette on the operating and rear side
Upgrade to acoustic protection cabin for high-noise applications (optional)
Pneumatic vertical stroke with 300 mm stroke length (optional)
Pneumatic sliding table drive
You might also be interested in
Contact