Standard machines 
i

SONIC
Flexible concepts with quick tool change 
and versatile accessories
Our ultrasonic welding machines of the iSONIC series are versatile and proven in their design. The product portfolio of the ultrasonic standard machines includes the ECO iSONIC pneumatic welding machine, the NC iSONIC ultrasonic series welding machine with servo drive and open control concept, and the ECOFLEX iSONIC ultrasonic welding cabin with changeover concept. The standard machine program is supplemented by the DNP iSONIC handheld welding device and the iSONIC MASK WELDER standard machine duo concept.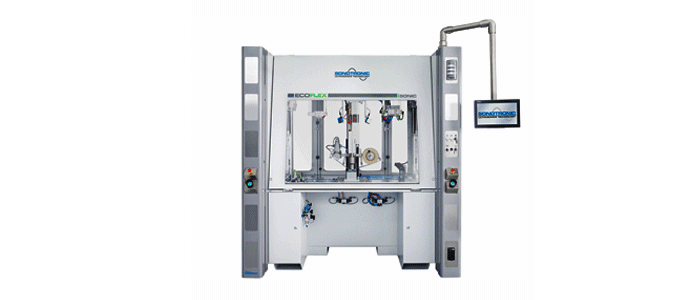 The standard machines impress with their simple tool change, fast setup, high process reliability and foolproof user guidance. Without expert knowledge and training depth, the user achieves perfect welding results across a wide range of different applications. 
We develop and manufacture our products with the highest precision in-house. We make it a point to find the optimal solution for your application with our standard machines and components. The tools for the ultrasonic standard machines are produced one hundred percent according to our own development and controlled production in our tool manufacturing center. With the help of the FEM (Finite Element Method), the optimal oscillation behavior is simulated and calculated. In this way, we guarantee perfectly matched tools and components to your requirements.
Standard machines for processing plastic parts and textiles

Automotive
Rivet airbag covers
Welding trim strips
Welding center consoles
Rivet steering column trims
Welding decorative trim
Welding accent and door sill trims
Welding cupholders
Welding tweeters
Plastics
Weld washing machine door & sight glass
Welding children's toys
Rivet LED signaling devices
Weld high quality electronic products
Sealing blister packs
Weld reflectors
Welding ink cartridges
Riveting fan wheel
Textile
Welding filters
Welding mouth and nose masks
Cutting and welding textile tapes
Welding vacuum cleaner bags
Welding Velcro fasteners
Embossing artificial leather
Welding membranes
Thermoplastic fabric spot welding
You might also be interested in
Contact