Ultrasonic special machinery
Energy-efficient processing of plastics
As an ultrasonic specialist, we develop and produce innovative special machines and automated production lines for the industrial processing of plastics. With over 2,300 realized projects, we are market leaders in the automotive industry.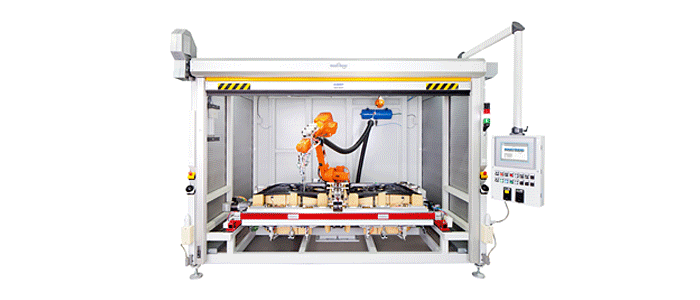 The applications range from ultrasonic welding machines for joining thermoplastics to robotic systems for flexible ultrasonic punching of bumpers, for example. We also solve cutting, riveting or embossing with ultrasonic. If the task requires it, we integrate additional devices, such as transport or gluing units, to automate processes and combine work steps. 
The aim of every joining technique is to join the material firmly and gently. Depending on the material, other processes such as hot plate welding, infrared or even hot air riveting can also be used and combined.
Optimal machine solution for customer-specific applications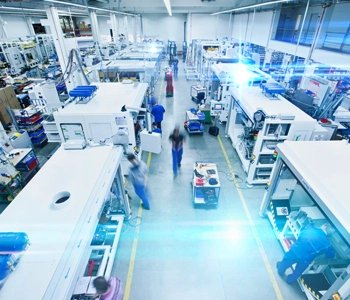 From simple ultrasonic punching machines to highly complex special designs, we exhaust all possibilities to find the optimal machine solution for customer-specific applications. We adapt the special machines to the requirements of our customers' production lines and quality standards. If the workpieces allow it, we combine several work processes by developing machines with rotary tables, swivel frames or sliding tables.
The design of the machines is customized according to the working process, the degree of automation and the application. On request, we design our special machines and assemblies in such a way that they can be easily integrated into existing production lines or machine concepts. We optimize our special machines by means of various parameters, such as: work processes, process times, safety, flexibility, ease of operation, quality of applications, service life of machines and tools.
Special machines for ultrasonic welding and riveting

Automotive Interior
Welding door panels
Welding instrument panels
Welding of instrument clusters
Welding center consoles
Welding A-B-C pillars
Riveting airbag covers
Welding filter mats
Riveting steering column trims
Automotive Exterior
Welding roof and rear spoilers
Welding headlight lenses
Welding wheel arch covers
Welding underbody coverings
Welding rocker panels
Welding headlight washers
Welding sidemarker lights 
Welding engine compartment components
Plastics
Welding appliance housings
Welding washing machine door & sight glass
Welding children's toys
Welding functional components
Welding high quality electronic products
Sealing blister packs
Welding consumer and lifestyle products
Welding printer cartridges
Special machines for ultrasonic punching

Automotive Interior
Punching wind deflector
Punching door opener 
Punching headliner
Punching entrance lights
Punching navigation modules
Punching composite materials
Automotive Exterior
Punching bumpers
Punching parking sensors
Punching headlight cleaning systems
Punching sidemarker lights
Punching trailer hitches 
Punching rear spoiler
Plastics
Punching and welding membranes
Punching technical textiles
Punching belts
Punching housings
Punching medical implants
Punching sound insulation
Alternative welding and riveting techniques

Hot plate welding
Hot plate riveting
Welding upper and lower shells
Welding glove boxes
Welding center consoles
Infrared riveting
Infrared welding
Riveting door panels
Riveting automotive trim parts
Riveting sensors for agricultural equipment
Hot air riveting
Hot air welding
Riveting interior parts e.g. center consoles
Riveting engine compartment parts
Riveting seat shells
You might also be interested in
Contact