The first major trade fair in presence for a long time was a success! SONOTRONIC presented environmentally friendly packaging live in Nuremberg with a horizontal packaging machine from Tecno Pack.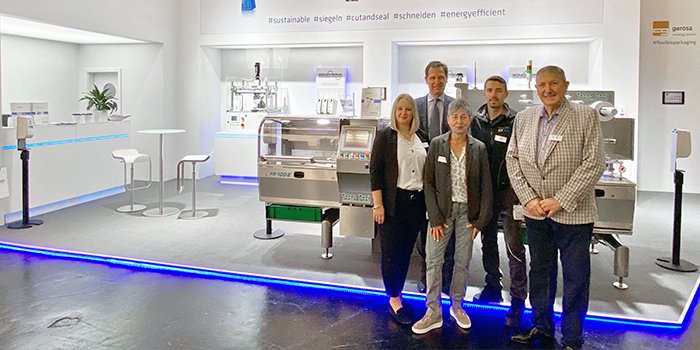 Legislators and consumers demand sustainability. Therefore, machine manufacturers, like our co-exhibitor this year Tecno Pack, have to face the challenge of processing recyclable materials. Particular focus is being placed on mono-material packaging to replace the previous composites. 
Ultrasonic technology makes it possible to seal even mono films, such as recyclable mono PP, securely and tightly without damaging the film or visually impairing the seam. Continuous ultrasonic sealing systems for longitudinal sealing, finseals, have become established on the market for use in horizontal form fill and seal machines. In this ultrasonic process, the roll sealing tools, which are mounted on one side, are not heated, but are made to oscillate at a frequency of 35 kHz. The film heats up due to the interfacial friction caused by 35,000 oscillations per second in the sealing zone and the packaged goods themselves are not thermally affected. With SONOTRONIC's single-sided ultrasonic roll-seam module ERM, there are no interfering contours, which means that the roll-seam sonotrode with single-sided bearing can be mounted directly below the filled bag. The use of ultrasonic systems is an economical process for sealing environmentally friendly packaging materials. This was also demonstrated by the outstanding interest in the technology at this year's FACHPACK: continuous ultrasonic sealing in the flowpack machine was the trade show highlight. But also the ultrasonic technology for head sealing of stand-up pouches or for ultrasonic cutting of food products attracted a lot of attention from the trade show visitors.
We are looking forward to the projects we brought back from the trade show and are ready for the next FACHPACK in fall 2022!